Cloud Computing is the future of IT Industry. Know more about AWS vs Azure
With cloud computing solutions driving the job market, demand for cloud certifications in
Microsoft Azure and Amazon Web services has significantly increased. AWS vs Azure is a hot topic of discussion amongst IT professionals who wish to add cloud skills to their resume. This article dives deep into a comparative study of AWS vs Azure with key features to understand, which adds more value to the Cloud market from a business and a career perspective.
Cloud Computing's Evolution & AWS vs Azure
Cloud computing has taken the digital world by storm in recent years and has been one of the biggest revenue drivers in recent years. This is because cloud storage and computing enable easy document creation and upload on cloud platforms from any location. Cloud computing solutions are scalable and can manage operations of any magnitude. There is a lot of discussion on AWS vs Azure – which certification to take up.
Studies have shown that the cloud computing area is expected to add around one million jobs globally, 5 lakhs in India alone by 2022. Over 80% of enterprises are adopting https://trainingbasket.in/#cloud platforms to manage their workloads. With these developments, there cannot be a better time to kick-start a career in cloud technologies considering the comparative study of AWS vs. Azure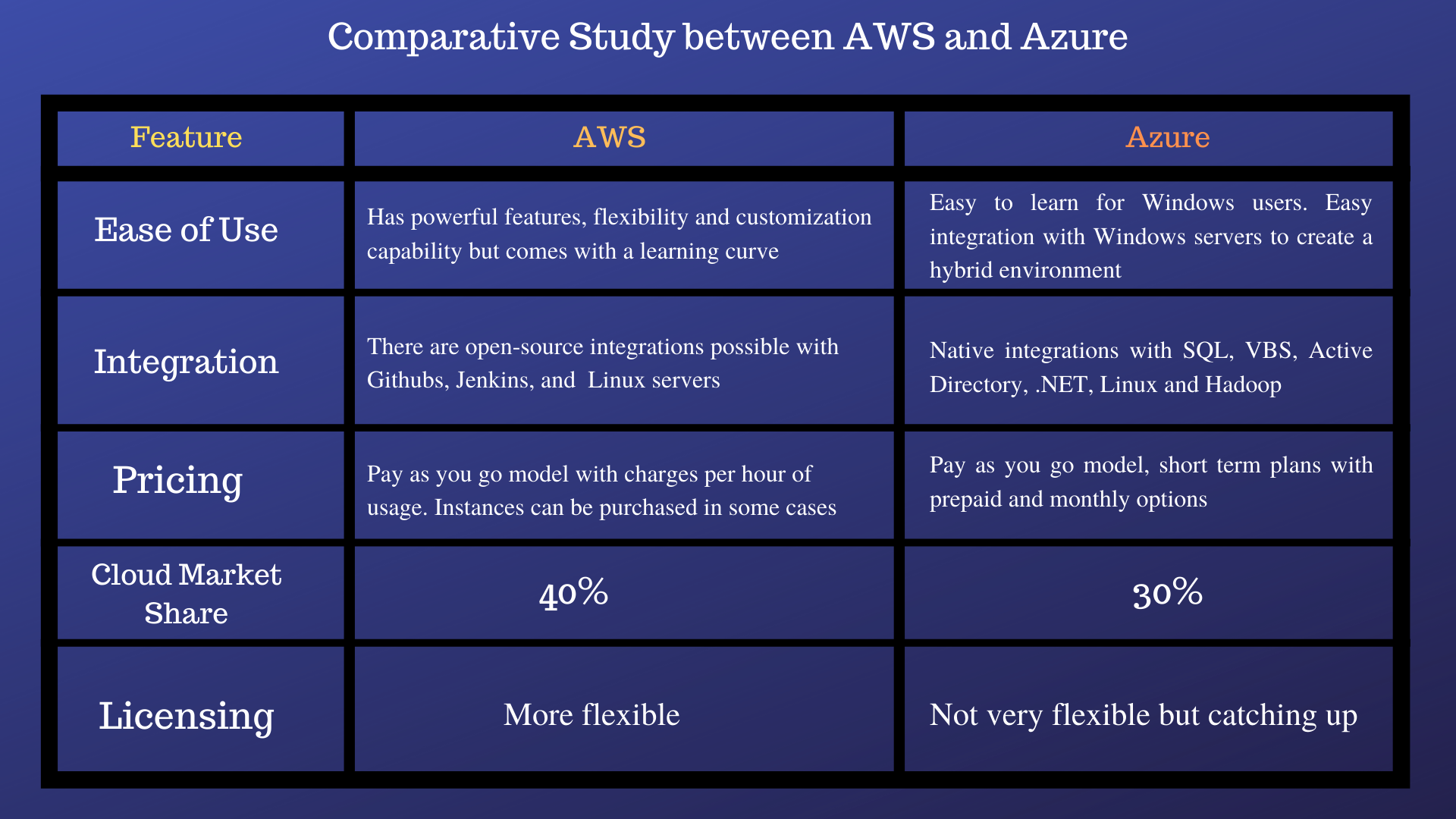 Read More : Advancements in Cloud Computing and Benefits of Cloud Computing
AWS vs Azure
Microsoft Azure and Amazon Web Services are two of the biggest names in the public cloud domain. Both offer services in computing, delivery, storage, database, developer tools, and several other functionalities. To understand their fit in a business enterprise, it is imperative to analyze their benefits, shortcomings, and compare their features. Let us have a look at AWS vs Azure
What is Microsoft Azure?
Microsoft Azure is a cloud computing platform by Microsoft, the leader in digital space. Launched in 2010, Microsoft Azure has achieved the top position amongst cloud service providers. Its key offerings include Azure data analytics, solutions for mobile and web applications that can effectively integrate with enterprise environments.
Read More : Great Scope of Azure Training for Individuals Seeking Jobs in the IT Sector
Pros:
Azure has top-notch testing capabilities that are achieved through its testing toolkit for digital marketing, mobile apps, business apps, and IoT devices.
Azure's private cloud computing environment prevents data access by third-party cloud platforms. 
Highly scalable, Azure works compatible with any cloud environment. It manages all operations of the cloud enabling the developers to concentrate only on coding.
 It offers optimal integration with all Microsoft products, including Active Directory and Windows Server.
Cons:
Azure does not have backup features leading to loss of data access during a power failure, although data remains secure.
Azure's integration capabilities are restricted only to Microsoft products, lacking universal compatibility.
What is AWS?
Amazon Web Services (AWS), launched in 2010, provides multi-tiered cloud development platforms for computation and content delivery. AWS can be implemented as Infrastructure as a Service, Software as a Service and Platform as a Service where developers can create and deploy applications on the cloud.
Pros:
Flexible, enterprise-friendly and scalable services 
Offers several application development platforms with dedicated solutions
Provides high-level of data security
Supports autoscaling, effective data management and cost reduction for businesses.
Cons:
The hybrid structure of AWS maybe a drawback for certain cloud computing solutions
Working on the AWS platform requires an elaborate understanding of the environment and hence not very user-friendly
Read More : AWS Certification – What is AWS and Why is it Important?

AWS vs. Azure – Which certification offers a brighter future?
The comparative study of AWS vs. Azure is a hot topic of discussion. Lets have a closer look at each technology to get a deep understanding of AWS vs Azure
AWS Certification
To obtain the AWS certification, one must have at least 2 years of experience in designing and developing AWS applications. AWS Certified Solutions Architects are sought- after professionals for provisioning applications to work on AWS infrastructure. 
This certification enables the candidates to make architectural and design recommendations for AWS application deployment. It can open gates for varied opportunities, such as AWS Solutions Architect Associate, DevOps, SysOps, and Developer.
AWS is the undisputed cloud leader with a vast enterprise base. To become a part of the AWS revolution, you can prepare for the certification through many resources online and offline. Check out our AWS training in Noida for more information and learn more about AWS vs Azure.

Read More : Top Reasons to take up AWS Online Training
Azure Certification
Microsoft offers not one but three certifications for Azure– for architects, Visual Studio developers and Linux developers. Towards the career path, Microsoft Certified Solutions Expert is the most popular one in Azure. Roles of Cloud Administrator, Information Security analyst and Cloud Architect, can be acquired with this certification.
However, before you decide to obtain this advanced certification, you must have acquired Microsoft Certified Solutions Architect certification. This certification is a requirement for entry level jobs and a pre-requisite for all advanced Microsoft Certifications. There are several resources to prepare for Azure certification exams. Check out Azure training in Noida classes for more information.

AWS or Azure – What are Employers looking for?
The decision whether you want to go the AWS way or Azure way depends upon the job you are looking for. You must find out the employers you wish to work for and the certifications they are expecting. If your dream job is working on Azure technology, you may ignore the market drift and pursue the career path as an Azure Developer. 
Some businesses look for developers and cloud architects who are skilled in both AWS and Azure. Knowledge and certifications of both platforms will give you a big edge for these positions.  Several jobs in the Cloud platform market treat Azure or AWS certifications as an added achievement of the candidate, while several job opportunities only require Azure certification. 
Whatever cloud platform you choose to learn and excel in, the single deciding factor that will land you a job is not just the Azure or AWS certification but also the hands-on knowledge you gain while studying the technologies.
Join Training Basket – Best AWS training and Azure training & Certification in Noida and land your dream job. Know more about our courses here.